Area : 5.31 Sq Km
Altitude : 2205 Meters
Languages : Hindi, Himachali, English
Best Time to Visit : May–July and September–November
STD : 0177
History Of Shimla
India is a vast continent of different colors, cuisines, weather and attractions. Its numerous cities, towns and villages give it a unique characteristic appeal. Come to India and explore this rich land throughout the year. A good place to beat the summer heat is to travel to the many cool hill stations of India. The state of Himachal Pradesh in northern India is the place to be. No discussion about its beauty is complete without a Shimla Overview. Shimla is its famous hill station and is extremely popular with locals and tourists alike.
Shimla is the capital city of the state of Himachal Pradesh and is situated in the shimla district. It is situated on an altitude of 2159 metres from sea level. It is well connected by National Highway NH-22 to the nearest city of Chandigarh and to the rest of the country. It is well connected through a network of state highways to the towns of Mandi, Manali and Dharamshala. It also has an airport which is 25 km from the city and connected with the city of New Delhi and other cities.
It is beautifully surrounded by picturesque snow capped peaks and green pastures. It's no doubt that Shimla became the summer capital of the British Raj. Every summer the British civil servants, merchant, soldiers escaped from the heat of the plains to this cool paradise. And that is the reason you will find numerous colonial structures dotting the region and the city.
Sightseeing in Shimla
Shimla Overview is incomplete without visiting its attractions. While staying here you should visit the Mall. Here you can roam and visit the numerous clubs, bars and restaurants or simply meet sit and pass your time. The two main meeting points here are The Ridge and Scandal point. Pass some tranquil time at the beautiful Christ Church. This church is situated on the Ridge and is also the second oldest church in North India.
christ-church
The church has awe inspiring stained glass windows representing faith, hope, charity, fortitude, patience and humility. On Observatory Hills is located one of the most beautiful colonial building, the Viceregal Lodge. It was the former summer residence of the British Viceroys. It was built in the Elizabethan style in 1888 and its grace and splendor can still be seen. It now houses the Indian Institute of Advanced Studies. Visiting these places will give you a Shimla Overview in reality as you can see them in real life.
christ-church-covered-with-snow
India is a vast continent of different cultures, cuisines and landscapes. The north of India is mountainous as it has the Himalayan range. Here you will find small yet beautiful hill stations. For exploring the natural scenery you should visit Shimla. This beautiful hill station also known as the 'Queen of the Hills' is located in the northern state of Himachal Pradesh. While Sightseeing in Shimla don't forget to visit the Mall, heritage and historic structures, lakes, parks, gardens etc.
One scenic way to reach there is by the narrow gauge train from Kalka. The train winds it way up hills, slopes, forests and passes through over a 100 tunnels. You will simply love the breathtaking views of nature as you travel. Sightseeing in Shimla is incomplete without visiting the Mall. You will find majority of the landmarks here. With restaurants, bars, clubs and tourist offices it is the main shopping hotspot.
The famous Gaiety Theatre is located here. The Theatre is a reproduction of an old British theatre and hosts many cultural activities. The Mall joins the Ridge at Scandal Point. It is a great meeting point and nice to stroll. A quiet peaceful place is Christ Church which is on the ridge. The church has a majestic appearance from the outside and is richly decorated inside. The inside is full of beautiful stained glass windows representing hope, fortitude, faith, charity, patience and humility.
Visit the majestic and regal Viceregal Lodge on the Observatory Hills which should be one of the highlights of Sightseeing in Shimla. It was the residence of the British Viceroy's in India and completed in 1888.It now houses the Indian Institute Of Advanced Studies. It is surrounded by beautiful gardens and lines of pine trees. Visit the Himachal State Museum & Library which is located 2.5 kms from Scandal Point. The museum houses collections from ancient India, Sculptures, paintings, coins, stamps and photographs. There is a library with many historical books and manuscripts also. Go for a day of picnic at Potter's Hill where you will find pristine nat1ural beauty. Here you can also explore the Ecological Park which has a wide collection of flora.
*Bhimakali Temple in Shimla in India
*Hatkoti Temple in Shimla in India
*Jakhu Temple in Shimla in India
*The Ridge in Shimla in India
*Christ Church in Shimla in India
*Himachal State Museum and Library in Shimla in India
*Summer Hill in Shimla in India
Things to Do in Shimla
Shimla was the summer capital of India during the British era. This place is considered to be the "Queen of Hill Stations". It is full of natural beauties and is a great place to spend one?s vacation. This place provides opportunity not only for sightseeing but also for different sorts of entertainment. You can enjoy winter sports as well. Shimla is the capital of Himachal Pradesh. This place can be reached from the different parts of the country quite easily. Travelers have many Things to Do in Shimla. Things to Do in Shimla include a visit to Viceregal Lodge and Gaiety Theater. You can also visit to the Tara Devi Temple in Shimla and Sankat Mochan Temple in Shimla.
Things to Do in Shimla include a trip to the Viceregal Lodge. This place was the summer residence of the Viceroys during the colonial period. This place is considered as a heritage building. This place is visited by tourists and local people alike.
You can also go to the Gaiety Theater. This place has seen theatrical performances by the actors like Shashi Kapoor, Jennifer Kendell and many others.
Things to Do in Shimla also include two temples- Tara Devi Temple in Shimla and Sankat Mochan Temple in Shimla. Tara Devi Temple in Shimla was established to honor the second incarnation of the Goddess Parvati. The popular belief is the Goddess controls the well being of the universe. According to the Hindu epic ?Ramayana?, Tara is also the name of Bali, the king of monkeys.
The Sankat Mocahn Temple in Shimal is a temple of the Hindu monkey God Hanuman. Sankat Mochan means ?someone who relieves others from all kinds of dangers and difficulties?. Hanuman, is often called by this name. The temple is situated at 1975 meters above sea level.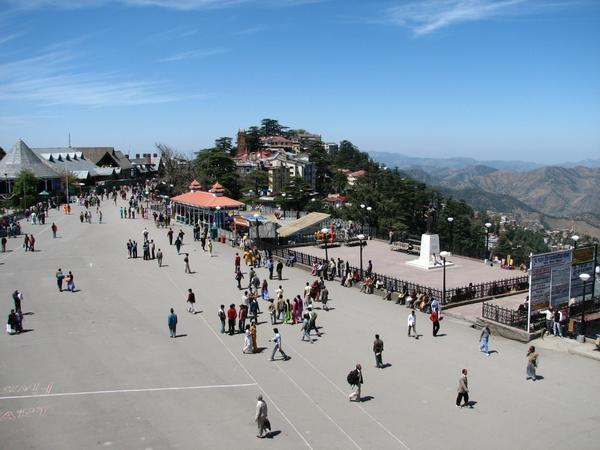 You can also enjoy some local festivals as well. Localm Festivals like Sipi Fair in Shimla, Summer Festival in Shimla and Ice-Skating Carnival in Shimla will provide you with some fun. They will also acquaint you with the local culture.
You can add Shopping in Shimla in your list of Things to Do in Shimla. There are many shopping malls here. You can find garments and other items inn these markets.
Entertainment in Shimla
Situated in the North-west Himalayas, Shimla is the capital of Himachal Pradesh. The former Summer capital of the British, Shimla is famous for its snowcapped mountains, apples, and pine forest, flowers and gentle natives. It is one of the best tourist spots in India. The marvelous serenity of the hill resort draws a huge number of tourists every year. You will find plenty of Tourist Attractions in Shimla in India. And looking for Entertainment in Shimla in India? You will get enough opportunities.
If you are fond of recent Hindi movies, you can attend. You can go to the Roller Skating hall which is located in the left of The Lakkar Bazaar in Shimla in India. You can go to see theatres in the Gaiety Theatre in Shimla in India or in the Kali Bari Hall, near the Grand Hotel You can pass your time by playing billiard or enjoy your moments by playing video games.
You will find few Billiard Rooms in the Mall. During the peak season, a variety of entertainment programs are arranged. Some of them include:
- Summer Festival (organized in June)
- Ice Skating (held in December- January)
- Winter Carnival Most of the craft fair is arranged in the Mall area. The town of Shimla holds a variety of shopping, sport and entertainment.
Shimla also is a expedient base for variety of adventures like Skiing, Trekking, Fishing and Golfing etc. For your shopping you can go to:
- The Mall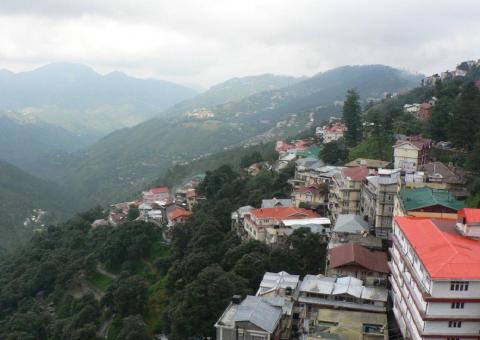 - The Lakkar Bazaar
- Sabji Mandi
- Ganj Mandi
- Ram Bazaar
The market of Shimla is the paramount for the handicrafts of Himachal Pradesh. You can also find gorgeous Tibetan jewellery and trinkets near the Ridge.
How To Reach Shimla
By Train:
Shimla is connected to Kalka (96 kms) on Meter Gauge and it takes around 6 Hrs from KALKA to reach SHIMLA. There are 3-4 trains daily from Kalka to Shimla and vice-versa. Shivalik Express is luxury Deluxe Train on this route with less halts and pantry facility. One can also travel through Rail car (one of its kind mainly running on this route in india only). The overnight Kalka Mail from Delhi reaches Kalka in the early morning and that is the time to catch connecting trains on the splendid narrow-gauge train to Shimla. There are 103 tunnels on the route with longest being 1.2 K.M. long.
By Air : Shimla Airport is at Jubbarhatti, 23 kms from city and is connected to Chandigarh, Kullu, Delhi. It has daily flights from Delhi and Kullu. On Tuesday and Thursday Jagson Airlines flies Delhi-Shimla-Kullu-Gaggal and return. Archana and KCV fly between Delhi and Shimla on Monday, Wednesday and Friday.
By road : Chandigarh is 117 km, Manali is 219 km, Chail is 45 km and Delhi is at a distance of 370 km. From Delhi, the driving time is about eight hours. From Delhi, Manali and Chandigarh, luxury coaches and taxis ply to Shimla.