History of Kaziranga National Park
Kaziranga National Park, situated in the northeastern state of Assam, is one of the most picturesque wildlife parks in India. The natural habitat of the one-horned rhino (Rhinoceros unicornis), Kaziranga lies on the southern banks of the Brahmaputra River, northeast of Assam's capital Guwahati. Originally established as a game reserve in 1908, which included specific portions of Assam's Sibsagar district, Kaziranga was declared

a sanctuary in 1940 to counter excessive poaching. In 1974, the Indian Government declared it as a protected site. The park's original inhabitants-the rhino and the elephant being the most noticeable-now thrive in a serene environment to the sheer delight of nature lovers. Viewing wildlife at Kaziranga Park because of its vast open spaces, the presence of the mighty Brahmaputra, and adjoining Mikir hills makes a trip to Kaziranga a complete 'jungle' adventure.
Sightseeing in Kaziranga :
Tourists can stroll through the lush coffee and rubber plantations of the nearby Karbi Anglong. Or visit the Karbi villages, meet the Karbi people and observe their way of living. Yiu can also venture through the tea gardens that Assam is so famous for and watch how one gets one's daily cup of tea. Film shows on wildlife can be arranged at the various tourist lodges in Kaziranga, on request.
Major Wildlife Attractions of Kaziranga Wildlife Sanctuary
Beside ofcourse the great one horned Indian Rhino, the other major wild attraction

s include a large population of Indian Elephants, Indian Bison, Swamp Deer or Barasingha, Hog Deer, Sloth Bears, Tigers, Leopard Cats, Jungle Cats, Otters, Hog Badgers, Capped Langurs, Hoolock Gibbons, Wild Boar, Jackal, Wild Buffalo, Pythons, Monitor Lizards, etc.
Kaziranga National Park is a birding paradise; the grasslands are a raptor country that can be seen on safari makes a remarkable experience. These include the Oriental Honey Buzzard, Black-Shouldered Kite, Black Kite, Brahminy Kite, Pallas's Fishing Eagle, White Tailed Eagle, Grey-Headed Fishing Eagle, Himalayan Griffon, etc. Huge numbers of migratory birds descend on the parks lakes and marshy areas during winters, including Greylag Geese, Bar-Headed Geese, Ruddy Shelduck, Gadwall, Falcated Duck, Red-Crested Pochard and Northern Shoveller.
Other Attractions In Kaziranga

Elephant Safari : The vast open country makes Kaziranga National Park very accessible and wildlife viewing fairly pleasurable. Here one can leave in the early hours of the dawn for an elephant-back-ride. Authorized and trained Mahouts who guide visitors through the park train the Elephants. One could see wild Elephant herds roaming around or Indian Rhinos browse past visitors unconcernedly. Since Kaziranga wildlife Sanctuary is easily accessible, its provides a chance to see animals in the wild at such close quarters, thus making a trip to this National Park a very rewarding experience.
How about checking the most awesome adventures while riding an elephant? Well, that's what Elephant Safari is all about. National Park's such as Kaziranga in Assam, with its swamps and grasslands with tall thickets of elephant grass and patches of evergreen forest, support the largest number of Rhino in the subcontinent. At Kaziranga, the open country makes wildlife viewing fairly easy and the Elephant safari is an experience you will never forget. Another Rhino habitat in Assam, but much more famous as a Tiger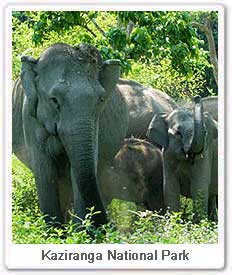 Reserve is the Manas Tiger Reserve. Located in the foothills of the Bhutan Hills and far from human habitation, this reserve is a world of its own. There are the Kanha and Bandhavgarh National Parks where Elephants are used for Tiger-tracking and should a tiger be located, the elephant can take visitors to that site.
How To Reach Kaziranga National Park
By Air : The nearest airport is situated at Guwahati, which is 217-km away from the park. The other airport is located at Jorhat, 97-km from Kaziranga.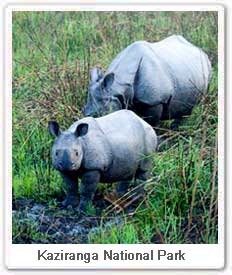 By Rail : The nearest railhead is Furkating, situated 75-km away from Kaziranga National Park.

By Road : The main gate for Kaziranga Wildlife Sanctuary, at Kohora on the NH-37, consists of a handful of cafes and a small local market. ASTC and private buses stop here on their way to and from Guwahati, Tezpur and Upper Assam.