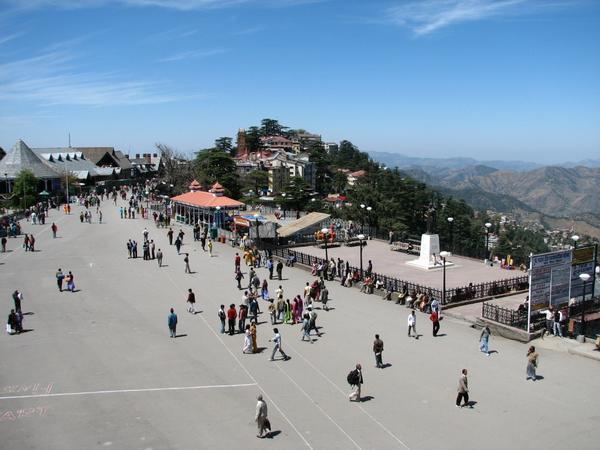 Location: Himachal Pradesh.
Area: 114sq.Kms
Significance: Queen Of Hillstations.
Altitude: 2159m above sea level.
Climate: Summer 24.3°C - 26°C ; Winter 10°C - 11°C.
Best Time to Visit: April-August, December-January
Main Attractions: Shimla Mall road, Kufri, Kalka to Shimla Train journey
Shimla is a cool breeze in the sweltering and humid summers. It is because of its quality of being a calm and beautiful the city was the summer capital of India under British rule, and now capital of Himachal Pradesh. Importance of Shimla have also been due to many important historical events such as the famous Shimla treaty between India and Pakistan which was signed here. Shimla is no less beautiful than the natural beauty of Mandi and Kullu valleys, north, Kinnaur in the East of Uttaranchal in the south, Sirmaur west. The little train that runs through the green valley and snow capped mountains between Kalka and Shimla is a unique feature of Shimla. The colonial architecture of the buildings in Shimla is great, except the location of natural scenic, verdant meadows and snowy mountains glistening. The aura created by the spectacular mountains and the great ancient structures, it is very different from other hill stations.
The Summer Refuge, Shimla is located at an altitude of 2202.00 Meters. The charm of Shimla doesn't fades in any season so here you can go any time without any hesitation. The varies from 15 - 27°C in summers and in winters it is in the range 0 - 17°C. Tourists eagerly waits for snowfall which occurs in chilly winters. The best time to visit Shimla is between April to August & December to January The scenic backdrop is ideal for walks and treks offers opportunity for and trekking in summer. The valley is flooded with wooded ravines, flowers and pines. In winters winter-sports and ice-skating carnival is organized here.
Religious Places in Shimla
His famous Church of Christ is the second oldest church in northern India. Cathedral of St. Michael's Roman Catholic Cathedral and other churches are Jakhu Temple of Shimla. Sankat Mochan temple and is dedicated to Lord Hanuman, offers a bird's eye view of the surrounding valleys and the city through the snowy peaks. Tara Devi temple situated atop the hill in the middle of dense forests of oak picnic famous. Kali Bari temple is dedicated to witnesses heavy Shyamala Devi peak during Diwali and Durga Puja.
Sight seeing in Shimla
Shimla is home to many attractions for tourists. Very nice collection of antique sculptures, paintings, coins, photos in the Himachal State Museum and Library. Viceregal Lodge or "Rashtrapati Niwas" is a building of six tired, built in the English Renaissance-style architecture. It has been done to the residence of the British Viceroy Lord Dufferin, and surrounded by manicured gardens and lawns. Now a day Institute of Advanced Study is running in the pavilion. Prospect Hill, Summer Hill and Potter Hill picnic picturesque, offering shady walks in a natural environment. Glen Forest at an altitude of 1830 meters is a place for picnic isolated. Annandale is even a picnic area, covered with forests and deodar an ancient temple.
Shopping in shimla
The mall, Bazzaz Baja, Tibetan and Lakka Bazar Bazar are the main business centers of Shimla. Crafts, wood, metals, shawls, sweaters, wool, wood, toys, caps, Tibetan carpets, pickles, jams and pumpkins are things that can be bought. Imported products, especially electronics and novelty can be purchased in Tibet.